Chello everyone! I apologize for the extended, shall we call it a virtual holiday?
After the holidays things just got crazy with Year End for work!
Where to even begin with what's been going on...
The big thing was my trip out west to L.A. with BF again for his company's End-of-the-Year Bash. The amazing L.A. Holiday Blogger Erin picked me up at the airport when I flew in on Friday. We went to lunch in Brentwood at this great sushi place, Sugar Fish, where I experienced my FIRST public celebrity sighting!
(From Jurassic Park, The Fly, and more recently one of Rachel's Dad's on GLEE!)
We saw Jeff Goldblum grabbing a bite with some people and I was informed by the locals that you're not supposed to tweet/blog/etc. at the time because then they'll get mobbed, but everyone seemed very respectful!
After lunch we walked around Brentwood a bit, before driving along the PCP and stopping to enjoy the absolutely gorgeous weather!
Erin & I
The Gorgeous view!
We ran & screamed on the beach, and Erin even convinced me to do some cheers from our CHS days! "Y-E... L-L, everybody YELL!"
That evening we grabbed some pretty tasty 'Margs' (in the words of Mrs. K.G) over at Baja Sharkeez near BF's hotel. What I couldn't get over was how awesome all the fish was! Between Sushi for lunch and the fish tacos I had for dinner... I want to live in Cali just for the fish!
Saturday, BF and I debated about what to do for the day before the annual shindig that evening. We decided since last year I made him do all the touristy stuff, we'd go in search of some famous California wines. Since Santa Barbara was about 2H away, we felt that would significantly cut into potential wine time, so we settled on Malibu... and boy was it A-MAZING!
In search of our first vineyard, we accidental stumbled onto an ACTUAL vineyard (not a tasting room like you're apparently supposed to), then from there stumbled onto the Biggest Loser Ranch... that's right, I KID YOU NOT!
We eventually at lunch there as well... after finding the wineries :)
BF at the Ranch Restaurant
Me out in front of Malibu Wines
This year's company blow out was at the club 'My House' it was neat and creepy all at once. Neat because it actually modeled a potential real house, complete with full kitchen (used as a second bar in this case), outdoor patio with grill, den, and living room. Creep-tastic because it had an actual bed complete with fur throw blanket and in-room jacuzzi...
creepy bed at the club
But all in all it was a pretty amazing trip that provides some wonderful memories.
February:
I got old... nough said.
Well, not actually Old-Old... but old-er.
I had my birthday, around the Superbowl.... again.
The Superbowl was in Indy. Everyone from Indy in the Midwest was freaking out and going home to see the spectacle. Same-ole, Same-ole. :)
All kidding aside, I actually had to look at my calendar to remember what I've done because I've been so busy. For my birthday weekend, we actually spent it downtown watch Purdue lose in a miserable basketball game at Red Ivy. But BF and I made up for it the following weekend for Valentine's Day.
He took me to the Violet Hour... a place I've been DYING to go to since he first told me about it! We got all dressed up, and went to enjoy our $12 cocktails. But BOY is it worth it!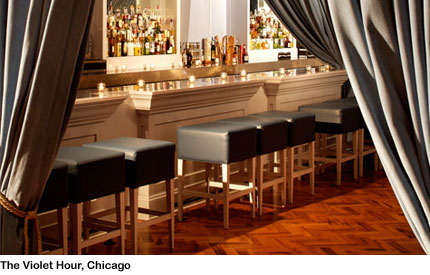 One of th bars at the Violent Hour, but imagine with much dimmer lighting.
The bar doesn't allow people to crowd everywhere. there's almost always a line. But this allows you to feel like you're in an intimate setting even in a large room.
The bar tenders don't use hoses of soda water or even jugs, everything is glass or pewter and the drinks are mixed the old fashion way!
I was also recently recognized at work and received free tickets to see Cirque De Soleil. We went, I was creeped out by the eery music and scary clowns.
All-in-all, though this year has started off big.

Can't wait to share more with you all!

XoXo